Home > About Us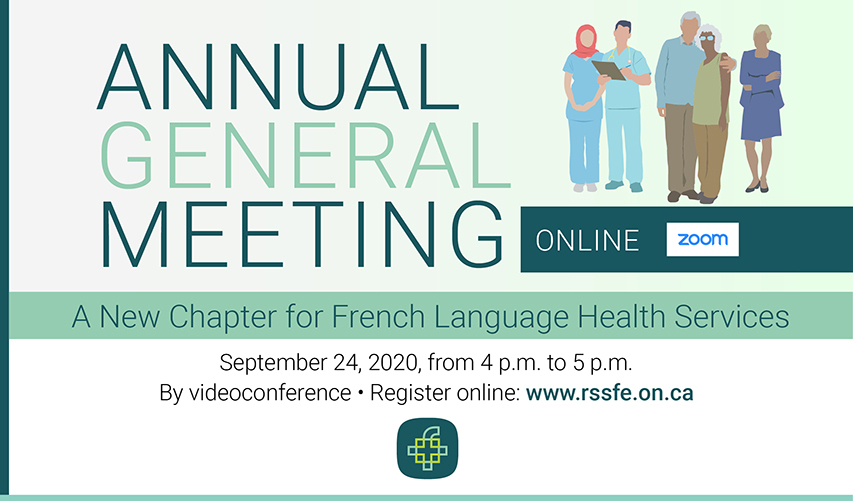 The French Language Health Services Network of Eastern Ontario (the Réseau) wishes to invite you to its first ever virtual Annual General Meeting!
Due to the COVID-19 pandemic, our AGM 2020 will be hosted by videoconference. Please join us on Zoom,
on September 24, 2020, from 4 p.m. to 5 p.m
.
We hope that this new formula will enable our members and partners form our different regions to take part in the meeting.
Proposed schedule:
3:45 p.m.:
Virtual registration
4 p.m.:
Business meeting
5 p.m.:
Closing words
Required meeting materials
(some documents available in French only):
Agenda
Minutes from the AGM 2019
Annual Report 2019-2020
Financial Statements 2019-2020
Board of Directors 2020-2021
Proxy Form – Individual Members
Proxy Form – Corporate Members
Réseau Bylaws
Download AGM poster
Registration:
Please
register online
before 4 p.m., September 22, 2020
.
Please note that registration is mandatory for this event.
Register now!
If you have any questions, please contact Lise Sicotte-Villeneuve by email (
lsvilleneuve@rssfe.on.ca
) or by phone (613-747-7431).
Technical support:
The AGM will be hosted
using the Zoom videoconferencing platform
. This service is available without charge to our guests.
To ensure a worry-free meeting, we are pleased to offer an online tech support service during the event.
A technical briefing will also take place at the beginning of the meeting, and we will send you a tutorial document (in French only), 24 hours prior the event.
Other considerations:
- Required meeting materials are available on our website.
- A link and a phone number granting access to the meeting will be sent to this email address 24h prior to the AGM. Please note that
this information will only be sent to individuals that have registered online and provided a valid email address
.
- The phone conferencing option is offered for accessibility purposes only. To ensure an optimal experience, and to facilitate voting, we highly recommend that you join the meeting by videoconference.
- The meeting will be recorded and screenshots will be taken. If you do not wish to appear in these photos/videos, please disable your camera.
- The meeting is open to everyone. However, only Réseau members in good standing are allowed to vote.
- Please note that the event will be held in French only.
Admission is free. Welcome all!