Home > About Us > Board of Directors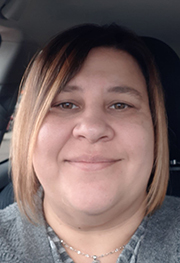 Cynthia Garand
Representative, Renfrew County
Cynthia Garand is a pillar of the Francophone community in Renfrew County, where she has made her home for the past 11 years. She currently occupies the position of Liaison Officer at the Centre culturel francophone de Pembroke, Centre Lajoie des aînés et aînées francophones de Pembroke, and Fédération des femmes canadiennes‑françaises de Pembroke. She previously served as Community Development Officer at ACFO Champlain.
Ms. Garand completed training as a Special Education Technician and Administrative Assistant and has been working as an Administrative Officer at the daycare Les petites mains for the past seven years. She has also served on the Parents Committee at L'Équinoxe school for the past four years.
Her responsibilities have given her the opportunity to cooperate regularly with numerous associations and organizations in the region, including the Military Family Resource Centre in Petawawa, Club Richelieu and St-Jean Baptiste Society.
Originally from Windsor (Quebec), Ms. Garand has two children and is part of a multigenerational military family.